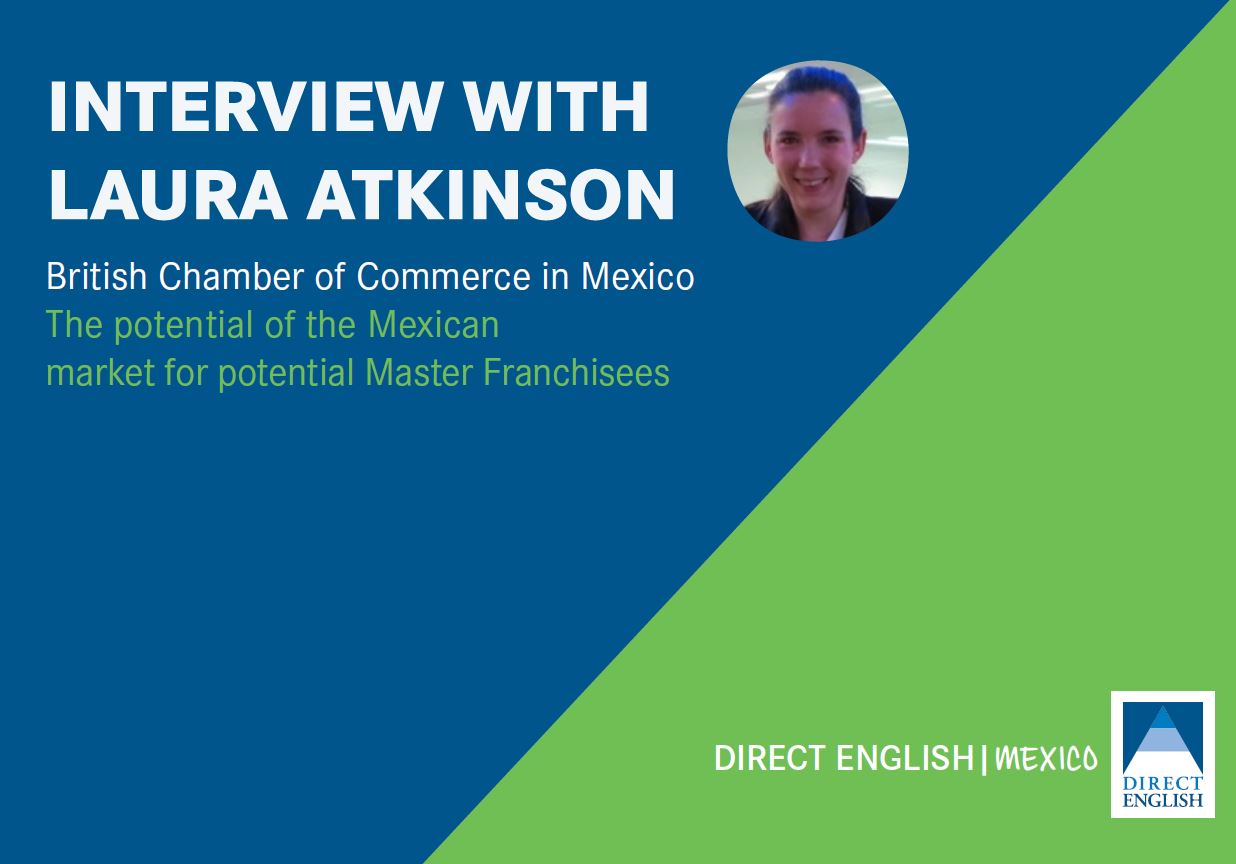 Interview with Laura Atkinson, British Chamber of Commerce in Mexico about the potential of the Mexican market to franchise a proven English school network.
What is the role of the British Chamber of Commerce in Mexico?
The British Chamber of Commerce in Mexico is a non-profit organisation promoting foreign direct investment along with export based economic growth between Mexico and the United Kingdom.
It is a politically neutral organisation, independent of both the Mexican and British governments. The chamber promotes the commercial interests of their members and British companies. BritChaM Business is the commercial section of the British Chamber of Commerce in Mexico (BritChaM). Its mission is to provide quality "soft landing" services for British companies that want to do business in, or with Mexico and, in doing so, help boot the UK economy through increased exports.
Why should an investor consider Mexico for developing a business?
Mexico is an extremely open country, and has advanced dramatically over the last few decades into a highly skilled and stable economy, worthy of British investment. Many new sectors are still opening up, thanks to an ambitious reform agenda, and an increasingly global outlook. Instead of reacting to protectionism with greater protectionism, Mexico continues to expand its horizons in search of like-minded economies, as a source for its own growth. This makes now the ideal time for companies to explore the many opportunities Mexico has.
What is the potential for a quality English language training business in Mexico?
There is high demand for English Language Training however investment in training needs to show results. There is also extremely high demand for English language teaching and submersion in schools for children to develop fluency in English from a very early age. British English is also seen as the more "correct" form of English in Mexico and institutions providing similar high-quality programs are well respected.
How is the franchise market in Mexico currently?
The Mexican Franchise Market represents the fifth largest franchise market in the world (http://www.trade.gov/topmarkets/pdf/Franchising_Mexico.pdf), representing 6% of the country´s GDP. Current legislation has created a favourable environment for the development of domestic and international franchises. Known US franchises are the most popular for investment.
What tips would you give any potential Master Franchisees looking to secure the rights to Direct English across Mexico?
You need to demonstrate a strong commitment to establishing a national presence in the country, an ability to secure spaces for classrooms in desirable areas, a strong network of corporate contacts and a firm desire to become a national chain.
How have you found working with the Linguaphone Group?
The Linguaphone Group has a lot of experience with franchises across the world, in many different markets. They understand the needs of different countries and cultures. They are always easy to reach, and quick to respond to any possible questions or concerns. They are very involved in the process of setting up a franchise in Mexico, and are very willing to discuss different possibilities. Their recent visit to Mexico in April to meet with potential Master Franchisees has shown how serious they are about entering this market.
For more information on the British Chamber of Commerce in Mexico please visit http://www.britchamexico.com/en/
For those interested in the opportunity to franchise Direct English across Mexico, please contact [email protected] or click here

Download